Anatomical Heart Fine Silver Necklace with Rubies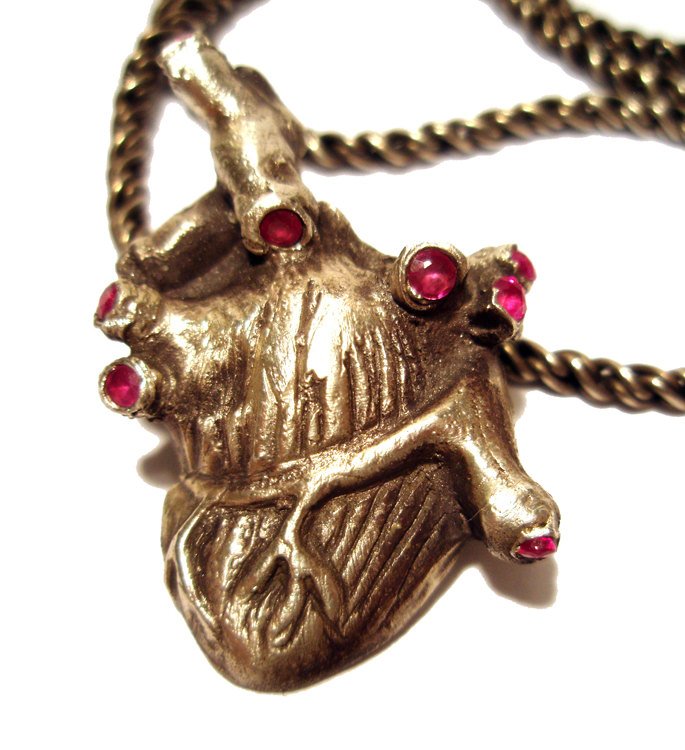 Anatomical Heart Fine Silver Necklace with Rubies
Perfect for Valentines Day - This Necklace is beautifully constructed in many steps - that are built up one by one and fired in a kiln several times to get the desired effect.

Title: "All My Love"
Type: Necklace / Pendant
Method: Sculpted and Carved
Length size: Adjustable - overall Length 18" - Or pick a length
Weight: 22.31 Grams
Measurements: 32mm x 20mm x 7mm thick
Materials: PMC3, 9 3mm Rubies, Patina, sterling silver chain

This is a stunning complicated necklace has the elegance and unique quality of no other as it is a one of a kind design.

The Heart is a sculpted anatomical heart with small 3mm rubies in each cross section of the arteries to resemble blood. Kind of creepy yet beautiful at the same time.

This one of a kind necklace is a perfect gift to tell your significant other you love them.

Made out of 100% recycled FINE silver - not sterling - this will not tarnish unless it comes in contact with certain types of chemicals like bleach - which will turn it black!
sold out