Yellow Brick Road Ring Wizard of OZ Fine Silver Gold Yellow Sapphire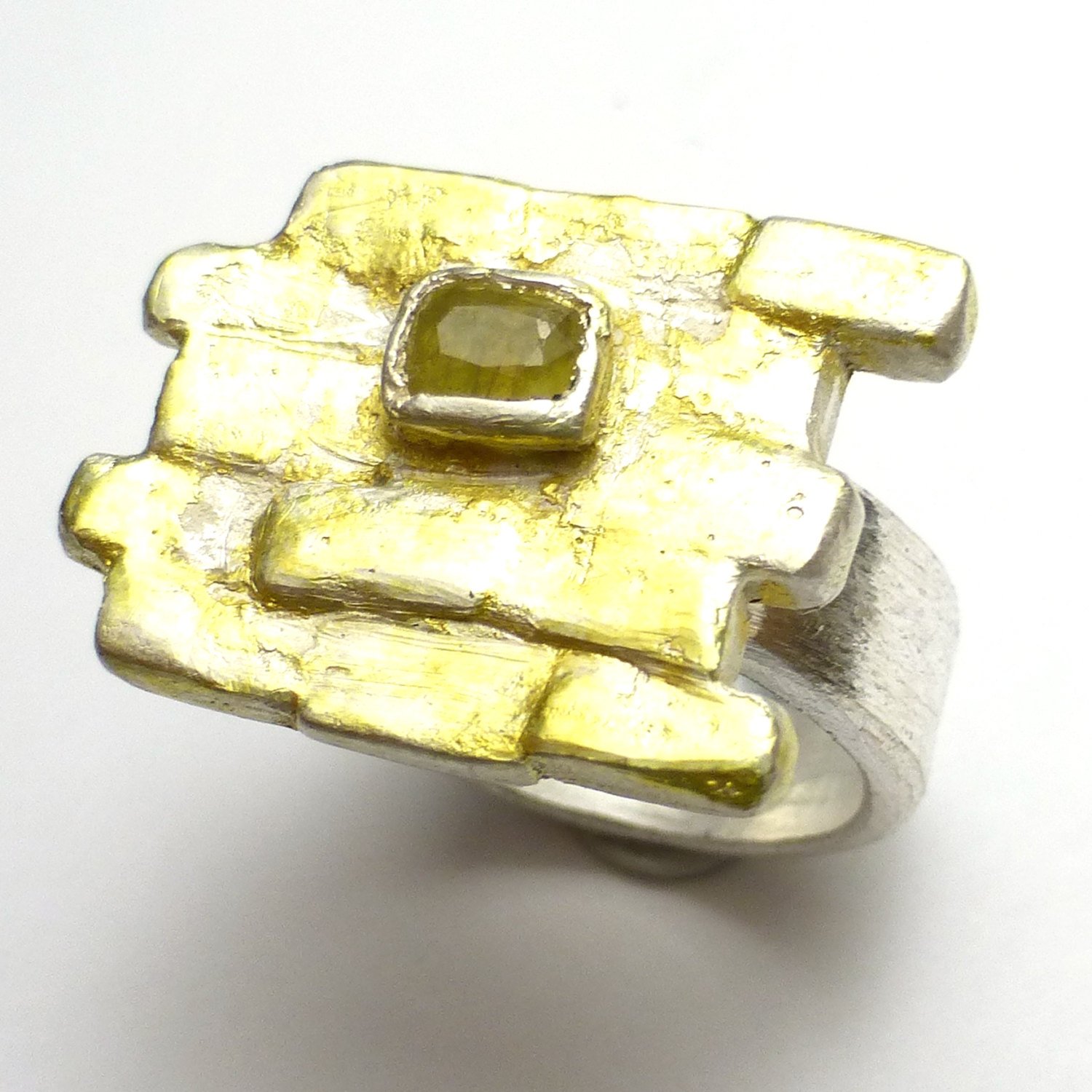 Yellow Brick Road Ring Wizard of OZ Fine Silver Gold Yellow Sapphire
This Ring is Made By Hand By Me - and is made in a many step process.

This one of a kind ring will make a great addition to your collection, or a perfect gift for a loved one.

material - Recycled Fine Silver, Recycled 22kt gold (aura22)
stone - yellow sapphire
Yellow Sapphire is a 9 on the Mohs scale of hardness
Size 5.75 - can be made larger

Ring Description:

"Follow the yellow brick road" - This is a unique expression of my version of Oz related jewelry, but not blatantly in your face Dorothy.

This is a really unusual and fantastic Modern Style ring made by me, out of Recycled Fine Silver and Aura22 22kt Gold with a square or rectangular yellow sapphire.

It has a lovely one of a kind Brick Pattern, no two are alike. This ring was build up brick by brick, piece by piece, and fabricated by myself. It is Fine silver with a really great quality square or rectangular yellow Sapphire.

This gem is a very good quality and is not dull, spotted, depressed, cracked or webbed. The top of the piece has a very thin layer of (aura22) 22kt gold that was fired on and burnished by myself.

Early folklore has said that the wearer of a yellow sapphire will have better financial stability, name, fame, wealth and good health. Also it helps to improve the eye sight and is supposed to protect a person from calamities, misfortunes and enemies.

Every one of a kind Sachs Design Piece is stamped "Sachs Design" for authenticity. This way you know you are getting the best TOP QUALITY jewelry available.

------------------------------------------------------------------------------------------

This is what people are saying about this ring.

ellieparrish1) says:
I love, love love this ring. It came today and I put it on immediately. It will be my new signature ring. Quite unique so a real conversation piece. It's solid , shiny but not too much and the yellow sapphire is placed in such a way that it really makes this piece stand out. I'll be purchasing more of LisaJoys jewelry I'm sure.


OzCollector says:
Love this piece. Completely met my expectations. Thanks for making it!

-----------------------------------------------------------------------------------------