4.51ct Sphene 14KT White Gold Halo Ring with 62 round PMI Diamonds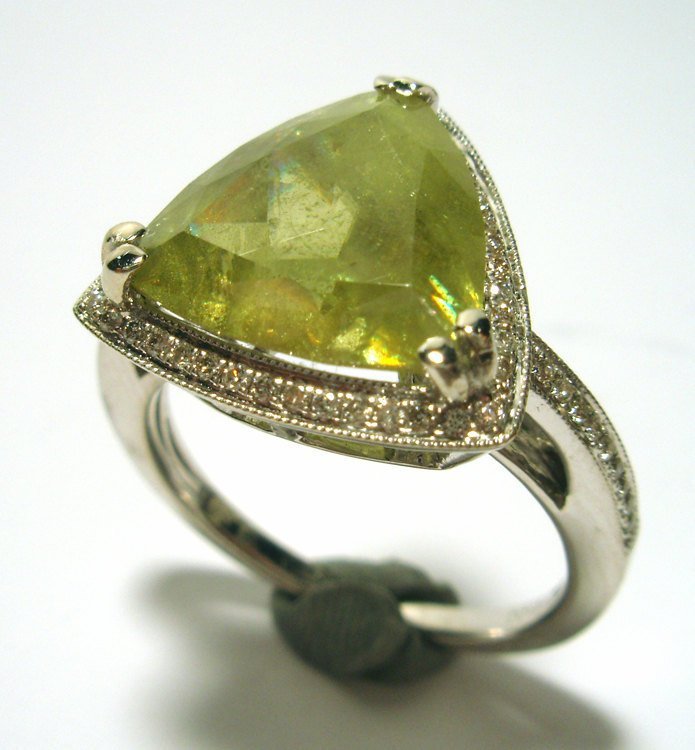 4.51ct Sphene 14KT White Gold Halo Ring with 62 round PMI Diamonds
Sphene is named from the Greek word for "wedge", because of its typical wedge shaped crystal habit. The mineralogical name "Titanite" derives from its titanium contents. Sphene is strongly pleochroic, displaying at least three colors - colorless, greenish-yellow, reddish - when looked at from different angles. Sphene is transparent to opaque. Most sphene have at least some inclusions and clean pieces are very rare.

Sphene, also known as Titanite, is a brilliant yellowish-green, green or brown gemstone of high luster, Sphene gemology
Species: Titanite
Color: Yellow, Acid green
Chemical composition: calcium titanium silicate
Crystal system: (Monoclinic) platy
Hardness: 5 - 5.5 (Mohs scale)
Specific gravity: 3.52 - 3.54
Refractive index: 1.843 - 2.110
Fluorescence: None

This ring is a size 6.5 - and can be made to size - please convo me to discuss terms
54 surrounding Diamonds equal - .3
They are PMI Diamonds - http://www.pmidiamonds.com/index2.htm
The Sphene trillion stone 12mm x 12mm x 12mm it is totally amazing!!! and has a really great Light Acid color it is hand cut by Bill and Elke Vance.
Carat weight is 4.51


unique color shades and, with brilliant cut, an intensive fire that can approximate diamond.
A brilliant yellowish-green or green is the most desired color. While in demand for a long time, sphene has been a rare gem on the market.

Crystals of sphene are fairly small and typically don't exceed the two carat range - this one is HUGE 4.51 carats!!!

With a hardness rating of 5-5.5 on the Mohs scale, sphene is a relatively soft gemstone so a ring while rare can be possible if the stone is set in a bezel or double prong setting as is this amazing ring!!! It is not made for everyday use, this is more of a cocktail ring, unless you are very careful with it.

This is a lovely White gold Ring with Lots of blingy Bright PMI diamonds. The Sphene stone is amazing and it is beautifully paired with the White Gold setting. There is no other like it - a one of a kind cocktail ring made for those perfect special occasions.

White gold is an alloy of gold and at least one white metal, usually manganese or palladium.


Sphene is also known as Titanite and is an excellent crystal to aid you to think more clearly. Its vibration will stimulate you mentally and help your creativity.

It has a strong vibration within the third eye chakra, and will aid mental activity, and help you to absorb new information.

Within the crown chakra, it resonates with the mystical golden ray of Christ consciousness, and is helpful to use in meditation.

It assists your clairvoyant abilities and your intuition and is very helpful to aid you to be more organized. It has a good healing action, and like most yellow-green stones it stimulates the solar plexus and aids manifestation.